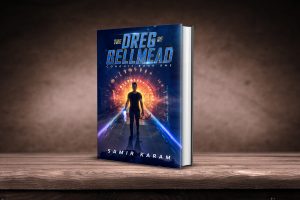 Whether you're here from my book series (Conduit) or my various fanfictions (ASoIFaL, LDR, ET, Z Gamer)— welcome!
I'm mostly known as Zero Rewind (otherwise as Samir Karam), and I'm a major nerd. Since the ripe old age of ten, I've been delving into various TV shows, video games, movies, cartoons and anime— and found fanfiction soon after.
As I grew older and more experienced, I began to value and appreciate the rarity of a good story, as well as the tremendous potential of the written word.
Eventually, the urge to write overrode all others, and so I began to write fanfiction. I wanted others to feel the same sense of wonder I first felt when watching an epic fantasy cartoon, or reading a sci-fi book, or playing an RPG.
Eventually, I even published my own book, The Dreg Of Bellmead, on Amazon!
It's a noble-dark fantasy about Nevan, a young man who is none-too-gently introduced to the hidden society of magic and forced to fight for his survival. The story set in the mysterious world of Ard— a modern world divvied up and ruled by the four races: Humans, Sea Elves, Dwarves and Wood Elves.
I also host a live stream show every Saturday night (if I'm available), in which I read terrible fiction for both amusement, as well as deriving lessons on what not to do. You should check it out, sometime!